Mouth Nose Shield
Product ID: 037987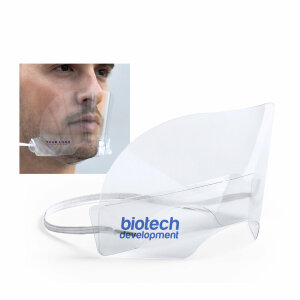 Product Description
Mouth-and-nose shield in resistant PET material, with chin protector and comfortable elastic adjustment for the head. Provides insulation from splashes and particles in particularly sensitive areas, such as the nose and mouth area. Easy to disinfect after each use and specially designed for situations where it is necessary to make the mouth visible (meetings, lip reading by deaf-mutes). Made of materials suitable for skin contact, with finishings designed for prolonged use, without causing discomfort or irritation. Easy to assemble, instructions manual available.
Call us for the best price, or fill in the details above and we will email you your quote.
All prices include a one colour one position print (or better) unless otherwise stated and are exclusive of VAT, carriage and origination charges.